WELCOME TO ARUBA
Aruba may only have a total area of 70 square miles, but that doesn't mean that the island nation isn't jammed packed with adventure. Whether you're looking to enjoy the miles of beaches, some of which have been named the best in the world, or explore the unique history of this island, there is plenty to do in this little Dutch outpost. While the island still belongs to the Dutch, there is a culture here that is purely Caribbean. With the island's unusually dry climate, you won't have to worry about any tropical weather getting in the way of you enjoying a day at the beach or a day about town. With so much to explore, experience, and enjoy, the unique island of Aruba beckons one and all to come ashore and see for themselves. Welkom!
ATTRACTIONS
California Lighthouse
If you want to feel like you're at the end of the world, head to the northern reaches of the island and head up to the California Lighthouse. You'll get stunning pictures of this giant, well-preserved lighthouse. If you're lucky, the inside will be open to visitors, and you can climb all the way to the top for a truly panoramic view! It is believed to be one of Aruba's most photographed landmarks.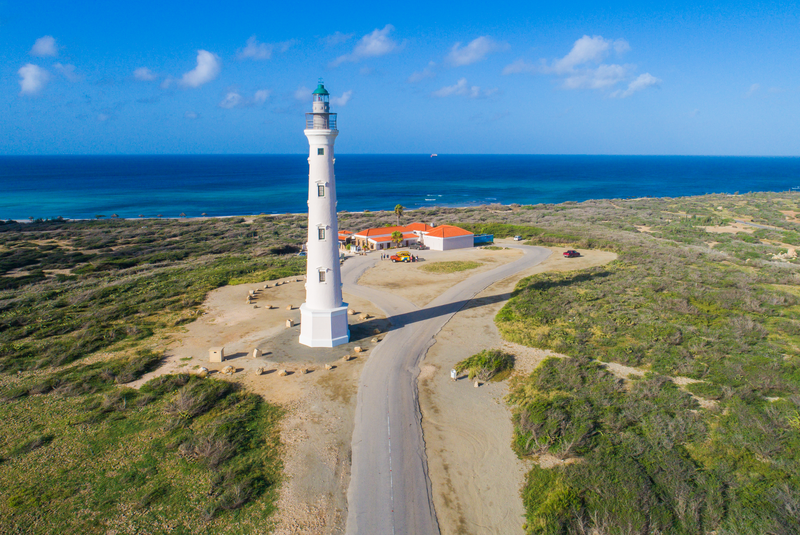 California Lighthouse (Photo Source)
The Butterfly Farm
For a quick family outing, a visit to The Butterfly Farm in Oranjestad is a fun way to spend part of the day. With hundreds of butterflies kept inside a protected habitat, you can take a tour through the facility and learn more about butterflies than you could ever imagine. If you're lucky, you may even get to hold one!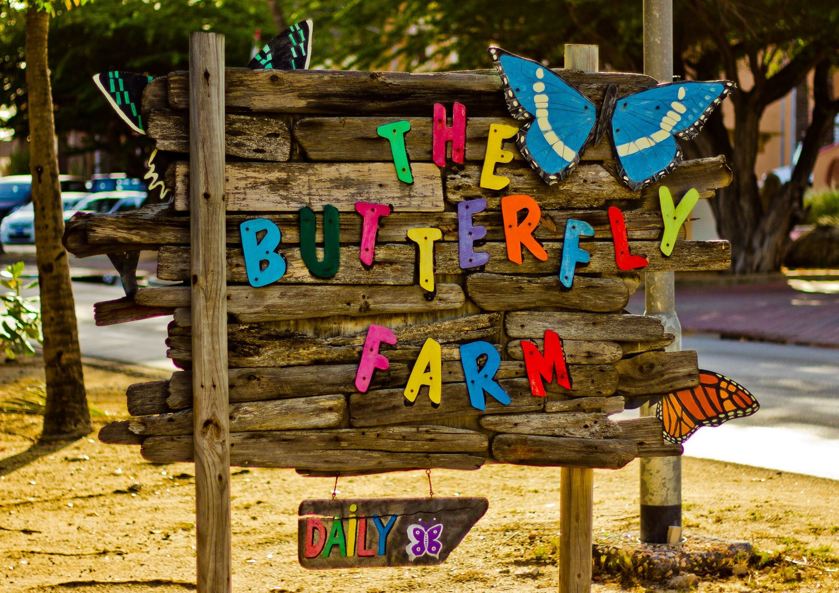 The Butterfly Farm (Photo Source)
The Antilla Wreck
Adventurers seeking out something unique should head underwater to The Antilla Wreck. You can join a SCUBA or snorkeling tour to explore this World War II German freighter that now rests on the ocean floor near Eagle Beach. Mother Nature has reclaimed this sight and so you may just catch a glimpse at some tropical fish, a turtle, or even an eagle ray.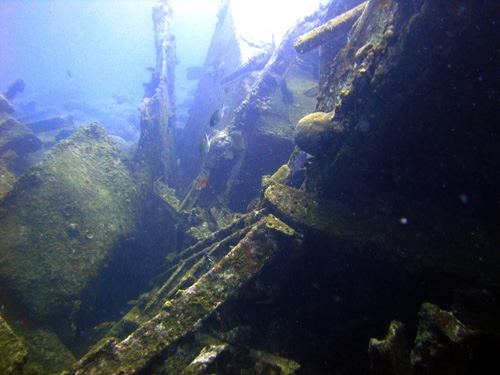 The Antilla Wreck
ENTERTAINMENT UPDATE
For those of you looking for a night out on the town, some of the best options are in Palm Beach, located on the northern coast. With karaoke bars, nightclubs, and bars galore, this fun resort area has everything to dance the night away. Try and find a club or bar with a rooftop terrace to enjoy all of the sights and sounds that the island has to offer.
Aruba is a land of music, rhythm, and dance, so it's no surprise that the island is home to music festival after music festival in the summer season. May, June, and July seemingly come alive as soul, jazz, and salsa music fill the air and locals and tourists alike take to the street to dance and enjoy life. Some popular festivals are the Soul Beach Music Festival and the Aruba Summer Music Festival.
With its prime location, it is not a surprise that Aruba is a popular water sports destination. Specifically, athletes flock to the island to partake in windsurfing and kitesurfing. With tournaments held throughout the year, you just might get to catch one. If not, you can learn a new skill and hit the waves at the various water sports centers around the island.
Aruba's Annual Beach and Reef Cleanup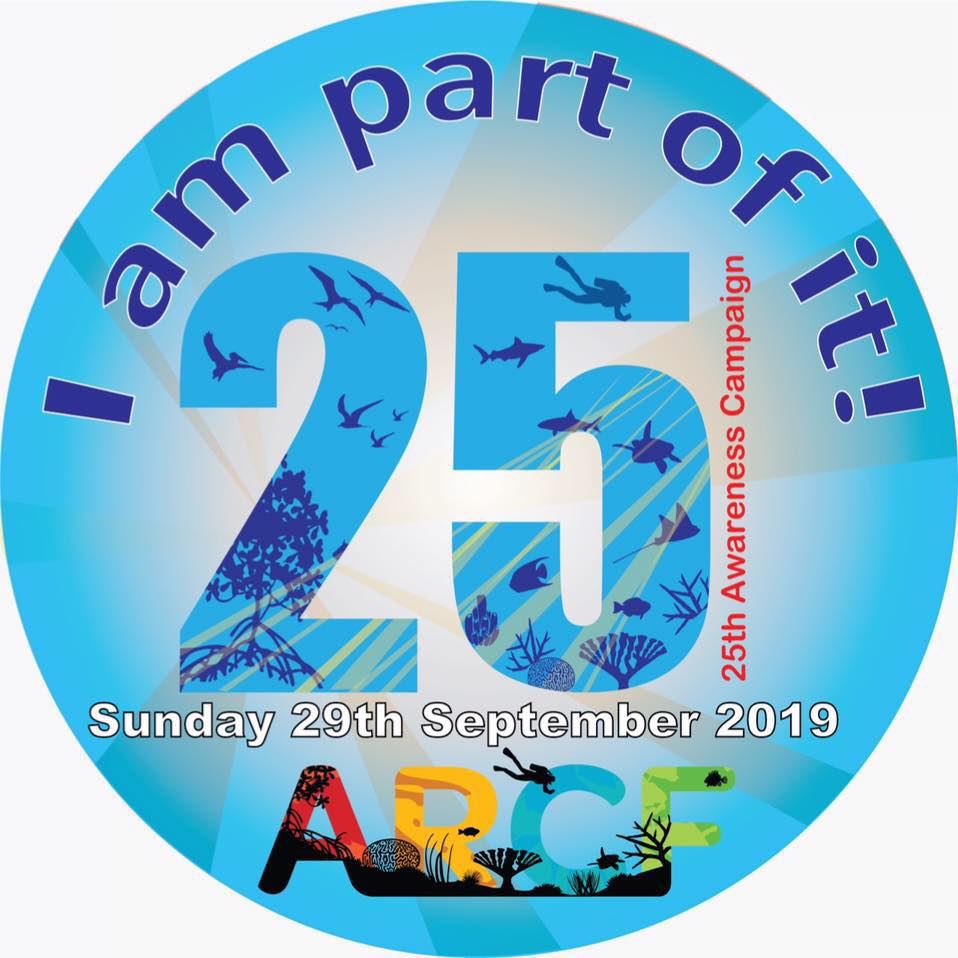 Important Notice: A 2020 event date has not yet been confirmed.
Join the Aruban Community, and Aruba Reef Care Foundation for a BEACH & REEF CLEANUP ACTION FUNDRAISER event!
A clean-up of the island's most popular beaches, dive and snorkel sites helps raise awareness for a clean marine environment.
With over 800 participants including local residents and visitors from around the world, it is the island's largest volunteer environmental initiative.
TOURISM UPDATES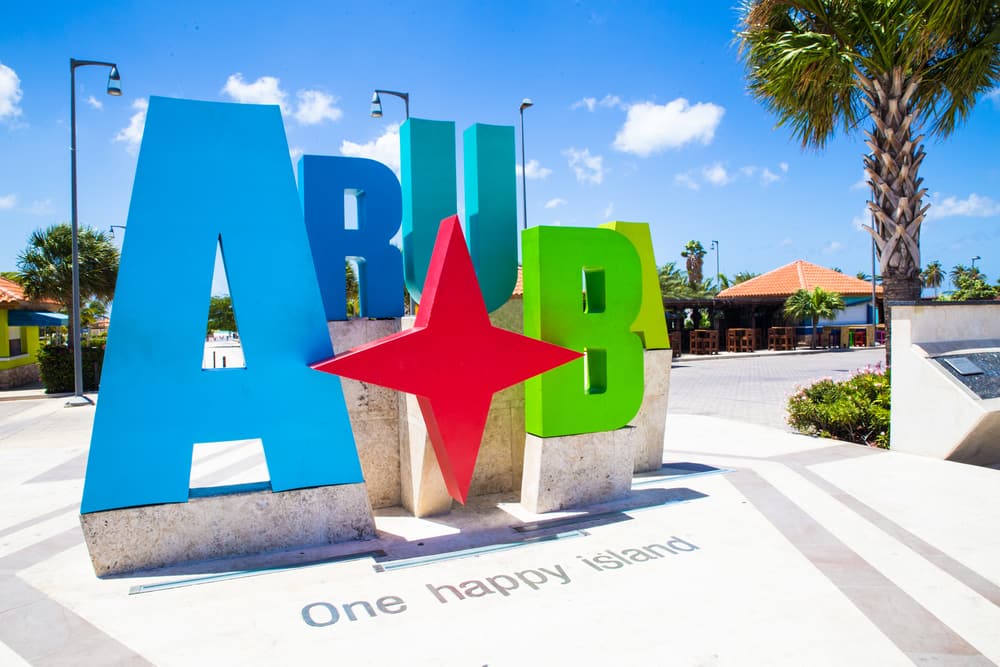 The Aruba Tourism Authority recently launched its  "One Happy Workation" program.
This program allows for visitors to book their stay in Aruba for up to a 3-month duration. While there they can work remotely in paradise and take advantage of the offered accommodation packages. Packages can include: special rates, complimentary WiFi, breakfast, all-inclusive food & beverage options, access to special local experiences, and more. Visitors can choose from any participating accommodation, ranging from small hotels to large resorts, and even private villas.
The Aruba Health & Happiness Code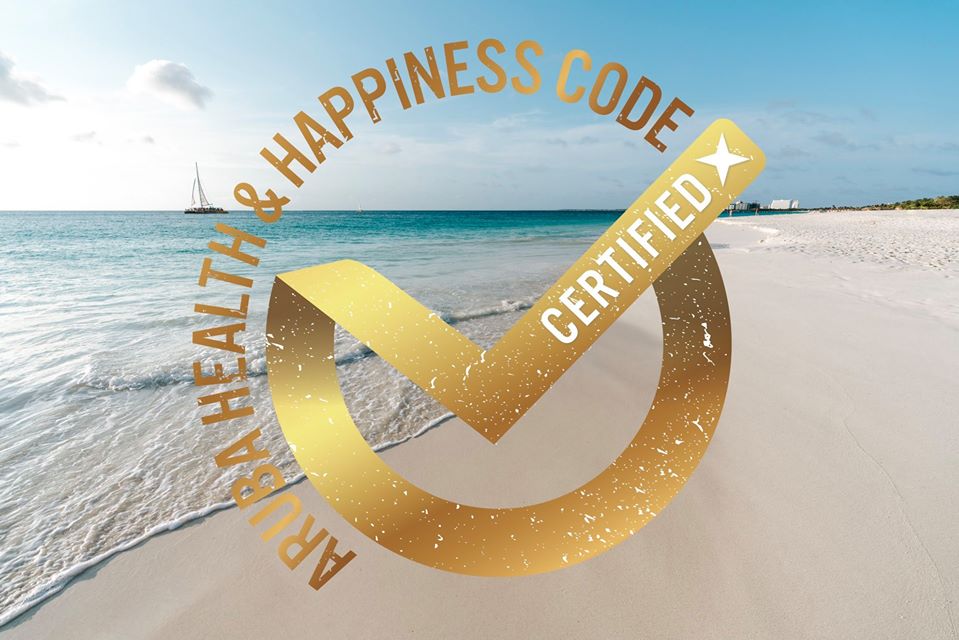 In May 2020 the Aruba Tourism Authority in collaboration with stakeholders and the Department of Public Health have announced the new 'Aruba Health & Happiness Code' to be implemented on the island. This certification program ensures Aruba's visitors that the island will uphold the highest health and safety protocols throughout their entire stay.
The objective of the certification program is to improve the hygiene protocols across the island and to ensure all local tourism related businesses meet the required standards to earn the official 'Aruba Health & Happiness Code' seal (HH-Code).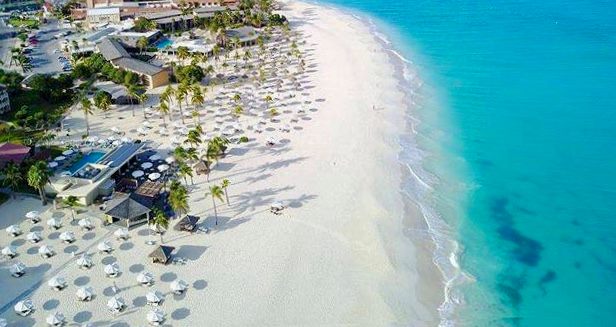 Photo by Bucuti & Tara Beach Resort
The management team at the Bucuti & Tara Beach Resort in Aruba continue their efforts to be the Caribbean's healthiest vacation experience by perfecting the Coronavirus safeguards and protocols, with a visit to Aruba's Horacio E. Oduber hospital.
Resort Manager, Rik van der Berg and Assistant Manager, Ignacio Ortiz met with Sinead Geerman, MSC  and Marjolyn Maduro, the hospital infection and prevention practitioners, to review our resort protocol and to learn the best approach to ensure health for the protection of our associates and guests alike.
GETTING THERE
Tourists arriving on a flight to Aruba will land at Reina Beatrix International Airport. The Aruban airport welcomes over 150 flights every week from various cities in the USA such as Atlanta, Baltimore, Boston, Miami, and New York. Aruba is also accessible from several local and international airlines, making flying to Aruba a breeze.
Instead of dealing with the stress of an airport, you can enjoy the luxurious cruise life at sea by booking a cruise to Aruba, instead. You'll port at Oranjestad, the capital of Aruba, for plenty of sun and fun in this Caribbean gem.
GETTING AROUND
If you want to get around like a local, you can hop aboard one of the government owned and operated buses. You can get around the local areas with ease, and maybe see some interesting stops along the way!
If you'd rather guide your own trip through Aruba, you can rent a car from a local car rental facility. You'll be able to pick up and drop off your car from Reina Beatrix International Airport with ease!
WILDLIFE/NATURE
To get a true sense of the beauty of the island, plan to spend a day at the Arikok National Park. Covering about 20% of the island, the national park strives to maintain the natural ecosystems of the island for future generations to enjoy. You can explore the rugged deserts (relatively unique to the region!), learn about the local plants and animals, explore the park on your own or join a guided hike. If you're lucky, your travel plans may line up with some fun events!
If you want to learn more about the animals of the island, but don't like the sound of a hike, then a trip to Philip's Animal Garden in Noord is a great way to spend the day. Here, you can see local animals up close, such as the Aruban rattlesnake, caymans, and a bunch of farm animals. Philip's Animal Garden is also home to animals from across the region and the world!
NATIONAL HEROES/MUSEUMS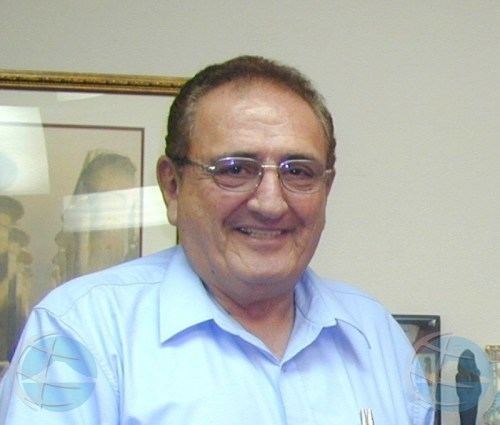 Jossy Mehsen Mansur
Jossy Mehsen Mansur: Mansur is arguably one of the reasons the Papiamento language is as prevalent as it is today. Mansur is credited with writing two dictionaries of the Creole language for preservation, a translation guide, one of the premier books on the history of Aruba, and starting Diario, the local Papiamento newspaper.
Baseball: Even through Aruba is known for its various watersports, the country has made several prominent baseball players who have gone on to play for the U.S.A.'s Major League Baseball (MLB). Aruba has sent players to the Boston Red Sox, Baltimore Orioles, New York Yankees, San Francisco Giants, and many others. Famed baseball players include Sidney Ponson and Xander Bogaerts.
Lovers of history will enjoy some time spent at the National Archaeological Museum Aruba. Located in Oranjestad in a series of historic buildings, the museum focuses on the indigenous cultures, Dutch colonial history empire-wide, and the natural history of the island and region. Be sure to check out their website to see if there are any exciting events happening during your travels.
If you want to experience something a little different, then plan a visit to the Aruba Aloe Factory and Museum. Here, you can learn all about aloe production, the history of this unique crop, and even see how aloe is processed for sale.
ECO-TOURISM
For those who want to enjoy the beach, but also want to experience something a little more unique, can head to Renaissance Island. This little private island is welcome to all, literally. Rather than removing the animals that call the island home, the developers built up the amenities with the "locals" in mind. As you enjoy a dip in the crystal blue waters or relaxing in a cabana, you're likely to see some iguanas and flamingoes strolling about the place. The animals are used to people and you can even feed them (with some staff supervision).
For a slightly more rugged appreciation of the beauty of the islands, head to the northern shores of the island for the Natural Pool. True adventurers only, this untamed landscape requires some basic rock climbing. After a short hike, you can scurry over some rocks and look down to see what seems to be a giant tide pool, or what has been named "Conchi" by the locals. Fish galore call this pool home and you can scramble down into the warm waters and enjoy your own little grotto. It's recommended that you wear water shoes with good grips so that you don't slip!
DONATE
Located near the capital of Oranjestad, Casa Cuna Progreso is a children's home dedicated to helping children who experience any kind of abuse or neglect. They also provide assistance to new families as well as foster parents and families to make sure all transitions are handled smoothly, healthily, and positively. You can donate to them to help them with this important job.
Animal Rights Aruba (A.R.A.) is a non-profit animal welfare center that extends its care to protect domestic species, farm animals, and wild species both on land and in the water. This multi-faceted organization strives to protect all animals while also protecting the environment and health of the island to insure that tourists continue to make Aruba a travel destination for generations.