WELCOME TO BARBADOS
A small, unassuming island nestled on the eastern edge of the Lesser Antilles, the island nation of Barbados has a vibe and character that is anything but small. Once part of the British Empire, Barbados has an incredibly rich history that has helped shape the island into the paradise that it is today. Whether you're looking for sandy beaches and warm waters or historic sites and lively communities, Barbados will have exactly what you are looking for. People have called Barbados home ever since the 13th century. The rich cultural community on the island has incorporated elements from everyone who has shown up on its sandy shores. As you walk through the streets of the cities, you will see a mix of English, West African, Portuguese, and native influences in the art, architecture, and the pleasant aromas of cooking food. So welcome to the island of culture and prepare to be delighted.
ATTRACTIONS
Harrison's Cave
You can experience what is often called the "Heart of Barbados" at Harrison's Cave. The subterranean cave is welcome to explorers wishing to learn more about the natural history of this unique island. You'll go underground to see the unique rock formations, underground waterfalls, and underground river.
Harrison's Cave
Dover Beach
No trip to a Caribbean island is complete without a trip to the beach and one of Barbados' top beaches is Dover Beach. Located near St. Lawrence, this beach seems to stretch forever with its beautiful sand and warm, inviting waters. You can even rent a jet ski and explore the shoreline in style.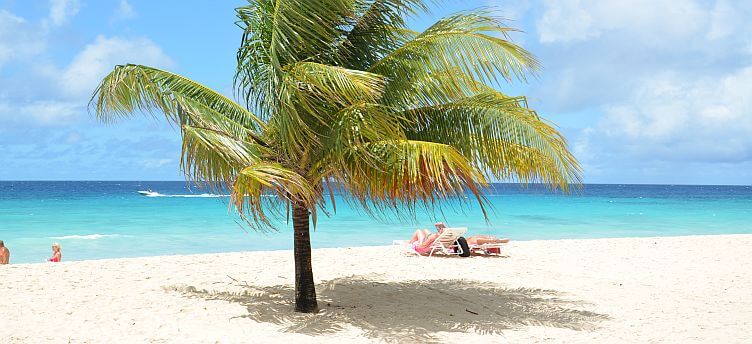 Dover Beach
Andromeda Botanic Gardens
For a quiet retreat further into paradise, you can visit the Andromeda Botanic Gardens. Located in Bathsheba, the Andromeda is a partner garden of the Royal Horticultural Society and often wins international awards for its beauty and diversity. You can gaze at the colorful flowers, be mesmerized by the stunning trees, and enjoy your own little oasis.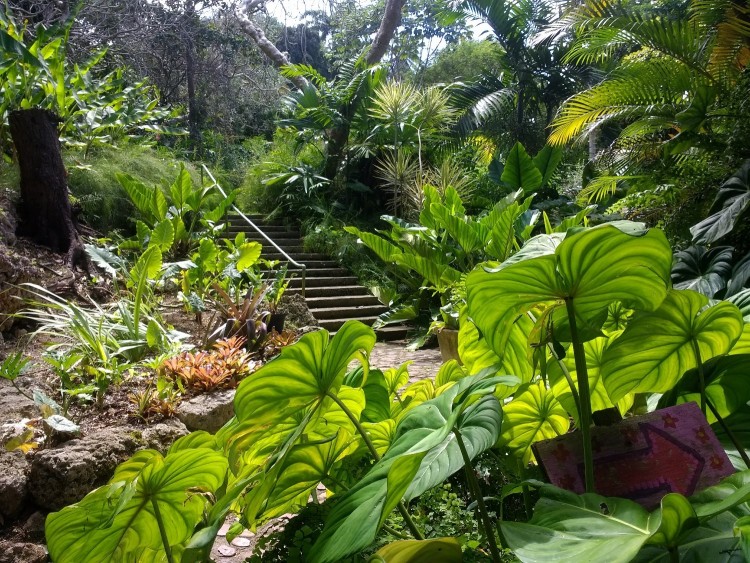 Andromeda Botanic Gardens
ENTERTAINMENT UPDATE
Cricket, tennis, and golf are the most prized sports here in Barbados. Chances are, your hotel or resort will either have tennis courts and/or a golf course to play or will have a connection with somewhere nearby. If you want to learn more about cricket, you can check out the Barbados National Cricket Team's schedule and see if you can catch a game.
They say that "Barbados wakes up when the sun goes down," so if you're looking for nightlife, hit the streets and just follow the music. Chances are, the local bar will be hosting some local musical talent or you'll find yourself on the doorstep of a neighborhood dance club. No matter what you feel like doing, you'll be able to find a way to party 'til dawn.
Barbados does Carnival a little differently. Unlike the usual Easter celebration, the big festival here is called "Crop Over" and happens when the historic sugar cane harvest would've occurred. This summer long party, lasting from June to August, is a showcase of Barbadian art, music, food, and all around happiness. The festival ends with Kadooment Day, the grand carnival parade. For 2020 this festival like many others has been cancelled due to the ongoing COVID-19 pandemic.
TOURISM UPDATES
No Set Date For Reopening of Airport As Yet
Similar to its Caribbean neighbors, Barbados would have closed its airport in an effort to curb the spread of the global pandemic COVID-19. As many countries have experienced a reduction in cases and have subsequently proceeded with plans to gradually reopen Prime Minister Mia Mottley remains adamant that Barbados' lone airport will not be resuming commercial flights until it is safe.
During a recent BBC interview the Prime Minister stated "We are not going to be driven by a date, we are going to be driven by protocols that make us safe because we want to remain safe for our people and for the people who are visiting us."
Despite the Caribbean region being heavily dependent on the tourism sector the CARICOM chair and Barbados Prime Minister Mottley has re-emphasized that the tourism-dependent country does not have any plans to reopen for tourism just yet.
GETTING THERE
If you want to book a flight to Barbados, you will be able to enjoy several options no matter where you're coming from. With several flights leaving from the U.S.A., Canada, South America, and Europe every day, you will be soaking up the sun (and maybe even a little of that famed Bajan rum!) before you know it.
Sometimes you'd rather let the gentle waves rock you away, and if that's the case, then look into booking a cruise to Barbados. With a port in the capital, Bridgetown, you will be able to explore the heart of the island and be within easy reach of much of the natural wonders that the island has to offer.
GETTING AROUND
Once you've made it to Barbados, you are going to want to get around the island and cities. You can navigate the streets and cities with ease thanks to the Barbados bus system. If you'd rather explore on your own, you can rent a car from a local rental authority and guide yourself on your Bajan adventure.
WILDLIFE/NATURE
For those who want to enjoy nature from the comfort of modern amenities, you can embark on a tour led by Atlantis Submarine Tours. You can elect for a day tour or a night tour to see some of Barbados' aquatic wildlife. As you explore the reefs around Barbados, who knows what you'll come face to face with!
For those who want to experience a rugged side of the island, you can head to the Soup Bowl at Bathsheba. The wave-battered cliffs windswept beach, and turbulent waves create a very different atmosphere from the idyllic, calm beaches that are strewn about the island. You'll get to appreciate the energy of the world around you as you stroll along the water's edge. If you have experience surfing, the waves at Soup Bowl are said to be some of the best on the island.
NATIONAL HEROES/MUSEUMS
Sir Grantley Adams
The Right Excellent Sir Grantley Adams: The founder of the Barbados Labour Party, this Barbadian statesman helped pave the way for workers' rights and equality in Barbados and the West Indies. He was the first Premier of Barbados and the first and only Prime Minister of the now defunct West Indies Federation in 1958.
The Right Excellent Errol Barrow: Founder of the Democratic Labour Party, believed to be a more progressive alternative to the Barbados Labour Party, Barrow fought for independence from the British Empire. He became the Premier of Barbados where he led the nation to independence. He then became the 1st Prime Minister of Barbados.
Thanks to Barbados' vast diversity and welcoming behavior of those of all cultures, many individuals can trace their legacy to Barbados. Famed singer and businesswoman Rihanna was born in Barbados. Additionally, Shirley Crisholm, the first black woman elected to U.S. Congress (and first female presidential candidate) was of Barbadian descent, her mother having been born in Barbados.
For those who want to learn more about the country, you can visit The Barbados Museum. Here, you can learn about the natural history of the island, see artifacts from the indigenous populations, and even explore the genealogical records.
ECO-TOURISM
With reefs and hidden spots galore, the many Catamaran Tour companies on the island are a great way to see even more of the beauty of this little gem. You can cruise around in style on either a private charter or with a group and see the beauty of the island from the water.
If you want to get your feet wet, you can sign up with Eco Dive Barbados for an unforgettable experience. They curate their trips around the habitats they explore. They want to insure an enjoyable experience for you and a safe experience for the natural world around you. You'll get to see animals in their natural habitat with knowledgeable dive leaders who know how to best navigate these delicate ecosystems.
DONATE
People all around the world experience food insecurity. You can help make a difference in the lives of the people of Barbados by donating to Food for the Poor. They strive to provide food, clothing, shoes, and school supplies to the people of Barbados who need it most.
For a charity that focuses on the needs of children, you can donate to H.O.P.E. for Children. They work to provide food, school supplies, school uniforms, and toiletries to children in need.