Coronavirus Update (May 2020) – Coronavirus in Brazil, Russia, USA And COVID-19 in the Caribbean
Coronavirus Update & News – The Coronavirus arose in Wuhan China and has been amidst us from 1 December, 2019 and has grown into a pandemic according to recent news. Pandemic meaning is the worldwide spread of a new disease.
All continents except Antarctica seem to be affected by Coronavirus and panic has officially struck. COVID-19 is considered highly contagious and any effective medicine is yet to be found/known.
As a result, school trips, important events and all travel plans around the world have been cancelled, rescheduled or postponed indefinitely for obvious health and safety concern. With over 3 million cases (over 2 million active) and over 200,000 deaths, it is but natural for health authorities all over the world to be alert and take immediate measures to stop this Coronavirus pandemic, be it building instant hospitals and care facilities or cancelling flights and stopping travel.
COVID-19 in The Bahamas:
102 Confirmed Cases of COVID-19 
The Ministry of Health has confirmed the current total number of coronavirus cases in The Bahamas is 102.
There have been eight (8) confirmed cases of COVID-19 in Grand Bahama, eighty (80) confirmed cases in New Providence, one (1) confirmed case in Cat Cay, and thirteen (13) confirmed cases on the island of Bimini.
The latest confirmed case is a thirty-eight (38) year old female of New Providence, with no history of travel. This case is in isolation at home.
The total number of active cases is 43 while the death toll remains at 11.

The Ministry of Health has further reminded individuals who have been advised to remain home in quarantine or isolation that they are expected to stay in their homes until the time of quarantine or isolation has ended.  Persons violating the quarantine protocols could face a twenty thousand dollar ($20,000) fine or up to five (5) years imprisonment
Find their dashboard here.
Visit here for some more information about the COVID-19 in the Bahamas:
Bahamas COVID-19 Information Page
COVID-19 in Trinidad and Tobago:
Phase 3 of Lifting COVID-19 Restrictions To Begin on June 01, 2020 as 1 New Case is Reported
The Prime Minister, Dr. Keith Rowley, in his address at the Diplomatic Centre today (May 30, 2020) announced the further lifting of COVID-19 restrictions.
The country will now enter Phase 3 of lifting restrictions on June 01, 2020 with the following to be allowed:
Public servants to resume work on a rotational basis
All retail businesses inclusive of malls to reopen until 6pm daily. Reopening guidelines have been provided by the Ministry of Health
Resumption of all National Lotteries Control Board (NLCB) operations (Play Whe, Lotto etc.)
Increase in number of domestic flights between Trinidad and Tobago
Outdoor dining at hotels
Gathering exception of up to 10 persons congregating at funerals only. All other congregation of persons remains at 5.
Phase 4 is expected to commence on June 08, 2020 and will include resumption of hairdressers, barbershops and domestic workers
Phase 5 is expected to commence on June 22, 2020 and will see reopening of churches and beaches.
Update: Trinidad recorded its first positive case on March 12, 2020 and has since recorded 117 cases with 8 deaths.
One new imported case was reported late today. This is the first new case to be reported in Trinidad and Tobago since April 28, 2020.
In its 10 pm update, the Ministry of Health said the national has been in state quarantine since their arrival in Trinidad and Tobago.
The Ministry said close contacts of the positive patient are also under state quarantine and have been tested in accordance with the relevant protocols.
It said these close contacts are being closely supervised by public health officers.
Find more information about the COVID-19 in Trinidad and Tobago here: 
COVID-19 in Aruba:
No new COVID-19 Cases Reported in Aruba
As of May 31, 2020 the number of COVID-19 coronavirus cases in Aruba remains at 101 and there are no active positive cases. Total recovered is now 98 while the number of quarantined persons stands at 161. There have been 3 deaths confirmed to date. 6 persons have been tested since yesterday bringing the total to 2134 persons tested to date. There are no inconclusive test results at this time.
From June 1, 2020 Aruba will be entering the 3rd phase of reopening the local economy. As of this date, the following establishments will be allowed to reopen:
Lottery sales outlets
Restaurants with inside seating (patrons will be allowed until 10 pm)
Bakeries and Coffee shops
Spas, Massage salons and saunas
All hygiene and social distancing protocols will continue to be obligatory. Casinos and nightclubs will not be allowed to reopen just yet.
A definite date for reopening Aruba's borders has not yet been announced. The government is still deliberating on certain specifics related to this step.
The mental health helpline for anyone feeling overwhelmed and going through stress and anxiety can speak directly to a psychologist remains. It is open from 2 pm to 10 pm.
Find more information about the COVID-19 in Aruba here: 
COVID-19 in Barbados:
More COVID-19 Restrictions Lifted as No New Cases Reported 
For the first time since the outbreak of COVID-19 in Barbados, there have been no new cases confirmed within a one-week period. The last 2 positive cases were reported on May 23,2020.
As of May 31, 2020 the number of confirmed cases remains at 92. The total number of persons recovered is now 70 with 7 deaths confirmed to date.
Barbados Situation Report as at May 30, 2020
As of June 01, 2020 there will be a further relaxation of the COVID-19 restrictions including the reopening of all remaining retail operators subject to the strict compliance with the various protocols that have been established.
Operators who will also be permitted to resume operations from June 01, 2020 include:
Photo studios and photographers
Real estate agents
Car rental companies
Animal grooming and handling
Trucking and other transport of goods
Storage
Car Valet services
Well Cleaning
Recycling businesses
Find more information about the COVID-19 in Barbados here: 
Barbados Integrated Government
COVID-19 in Montserrat:
Montserrat Continues to Reopen
As of 12:00a.m. on Friday May 22, businesses to include restaurants, cook shops, barber shops, and religious establishments will be allowed to operate, but must implement social distancing (6 feet apart) and sanitizing measures.
The initial phase of reopening the Montserrat Public Service will commence on Monday, May 25th, 2020.
The Office of the Deputy Governor announced on Thursday May 21st, 2020, that this is in light of a Cabinet's decision to ease public health restrictions on May 22nd 2020 based on reports from the Ministry of Health that there are now no active cases of COVID-19 on the island and that transmission risks have been reduced. Therefore, the risk of public officers and others being infected at work has been lowered. But, we must remain vigilant if we are to keep it that way.
Montserrat's confirmed cases remains at 11, with 10 recoveries and 1 death.
Here are some useful links to get the latest updates on COVID-19 in Montserrat:
Government of Montserrat Website
COVID-19 in St Kitts and Nevis:
St. Kitts and Nevis Successfully Contains 1st Wave of COVID-19
Chief Medical Officer in the Ministry of Health, Dr. Hazel Laws says that the Federation of St. Kitts and Nevis has successfully contained the first wave of COVID-19.
She said this during her appearance on the National Emergency Operations Center (NEOC) COVID-19 daily briefing for May 28, 2020.
Dr. Laws said, "We would have announced our last case or our 15th case on April 19th which is approximately 37 days ago, which is almost three incubation periods hence."
She also highlighted that "Based on the data on the ground, we are not seeing persons presenting at our health centres complaining with respiratory symptoms and we are not seeing persons coming into our emergency room complaining with respiratory symptoms."
St. Kitts and Nevis COVID-19 Situation Report as at May 29, 2020
St Kitts and Nevis has met the six criteria set by the World Health Organisation guiding whether or not to ease lockdown restrictions. They have no more active COVID-19 cases, with all 15 positive cases recovered, and no related deaths.
Here are some useful links to get the latest updates on COVID-19 in St Kitts and Nevis:
COVID-19 in Antigua and Barbuda:
Antigua and Barbuda Reopens International Airport
On June 01, 2020, Antigua and Barbuda became the first Caribbean Community (Caricom) country to reopen its international airport amid stringent health protocols to prevent any reoccurrence of the COVID-19.
The Antigua and Barbuda Airport Authority said it will be restricting traffic through the terminal to travelers and airport staff and that they will all be subject to the agreed protocols, which include all passengers being required to wear masks during the arrival and departure process.
In addition, all arriving passengers will be asked to complete a health declaration form following which Port Health authorities will administer health and screening checks and that all airport staff who have to interface with the travelling public must wear PPEs as per the standard health protocols.
Last week, the Economic Recovery Committee (ERC), chaired by Prime Minister Gaston Browne, noted that on June 4, American Airlines will fly from Miami to Antigua, arriving at about 11:00 pm (local time).
Prime Minister of Antigua & Barbuda, Gaston Browne
To date there have been 26 confirmed COVID-19 cases and 3 deaths in Antigua and Barbuda. There is currently 1 patient is in critical condition.
Here are some useful links to get the latest updates on COVID-19 in Antigua and Barbuda:
Antigua and Barbuda government information services
C

OVID-19 in Dominican Republic
Dominican Republic Reports 4 Additional COVID-19 Deaths
As of May 31, 2020 the Dominican Republic's Covid-19 death toll rose to 502, after it was confirmed on Sunday that another four people died in the past hours, the number of positive cases goes up to 17, 285.
According to the Ministry of Public Health, of those infected, 1,960 are in hospital isolation and 4,264 in the same condition but at home. Of the total number of confirmed cases, 54.67 % are men.
The provinces with the highest number of infections are Santo Domingo (4,522), National District (4,435), Santiago (1,465) and San Cristobal (116).
The average age of the deceased is 65 years, and they had chronic diseases such as high blood pressure and diabetes. Of the new deaths reported, three are from the province of Azua and one from San Juan.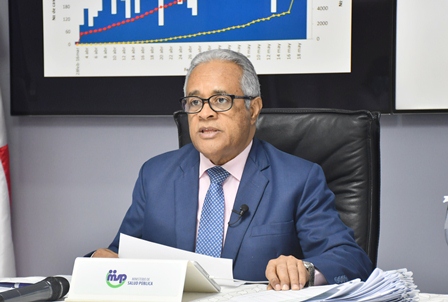 Minister of Health, Dr. Rafael Sánchez Cárdenas provides an update
The President of the Dominican Republic extended the State of Emergency for an additional 12 days.  The curfew will remain in place through June 15th.  The curfew hours remain Monday through Saturday 7 p.m. to 5 a.m., and Sunday 5 p.m. to 5 a.m.
Masks are required in all public spaces in the Dominican Republic.
The Dominican Republic has put in place a number of measures to slow the spread of COVID-19 including: 
A national curfew that prohibits all traffic and movement of people. 
Creation of a national hotline for questions relating to COVID-19 if you have been exposed or are experiencing severe symptoms.

  

Call *462 for further instructions, but note that English-speaking operators are limited.

Cruise arrivals have been suspended at all ports and coasts.

On May 20, some public transportation services, including buses, metro trains, and cable cars restarted with social distancing guidelines and reduced schedules.

Events and public gatherings of all kinds suspended.

Roadblocks have been set up at various points throughout the country prohibiting internal travel in the country. U.S. citizens with urgent travel, including travel to the airport for departure, should be prepared to present supporting documentation to the Dominican authorities at each check point.
Here are some useful links to get latest updates on coronavirus in the Dominican Republic:
The Caribbean Public Health Agency 
Centre for Disease Control (CDC) 
Share this resourceful article with as many friends and family as possible. Remember folks, knowledge is all we have against Coronavirus today. Stay safe!