Coronavirus Update (October 2020) – Coronavirus in Brazil, India, USA And COVID-19 in the Caribbean
Coronavirus Update & News – The Coronavirus arose in Wuhan China and has been amidst us since December 01, 2019 and has grown into a pandemic according to recent news. Pandemic meaning is the worldwide spread of a new disease.
All continents except Antarctica have been affected by the current Coronavirus. COVID-19 is considered highly contagious and any effective medicine is yet to be found/known.
As a result, schools, businesses were initially closed and important events and all travel plans around the world have been cancelled, rescheduled or postponed for obvious health and safety concern. With over 40 million cases (over 9 million active) and over 1 million deaths, it is but natural for health authorities all over the world to be alert and take immediate measures to stop this Coronavirus pandemic, be it building instant hospitals and care facilities or cancelling flights and stopping travel.
As time has progressed, many countries have taken managed measures to reopen their countries amid the rampant spread of the virus. While cases continue to increase countries are trying to cope and adjust to "the new normal".
COVID-19 in The Bahamas:
30 Additional Reported as Bahamas has crossed 1000 COVID-19 Cases
According to a media release on August 14, 2020 by the Bahamas Ministry of Health, there are thirty (30) additional confirmed cases of COVID-19. This brings the total number of confirmed cases to one thousand one hundred nineteen (1119). There have been five hundred seventy (570) confirmed cases of COVID-19 in New Providence, four hundred forty-six (446) confirmed cases in Grand Bahama, forty-five (45) confirmed cases in Bimini, thirty-one (31) confirmed cases in Abaco, twelve (12) confirmed cases in the Berry Islands, eight (8) confirmed cases in Cat Island, five (5) confirmed cases in Exuma, one (1) confirmed case in Eleuthera, and one (1) confirmed case in Inagua.
Bahamas COVID-19 Dashboard as at August 14, 2020 (Photo Source)
The Bahamas reopened its international borders on July 1, 2020 to all travelers, including visitors, via commercial airlines, private aviation, and vessels.
However, on July 19, 2020 the Prime Minister of The Bahamas announced a series of measures to mitigate the recent upward trend in COVID-19 cases. The measures included:
Suspension of all inbound commercial flights from the United States with passengers, effective July 22, 2020
Suspension of all international and domestic travel to and from the Island of Grand Bahama, effective July 22, 2020
The public is reminded to practice the following measures to prevent the spread of COVID-19:
wear a face mask when you leave home;
wash your hands often with soap and water for at least 20 seconds, and if soap and water are not available, use an alcohol-based hand sanitizer with at least 70% alcohol;
cover your cough or sneeze in your inner elbow or with a tissue; and
clean and disinfect frequently touched surfaces such as phones, remotes controls, counters, doorknobs, and keyboards.
Visit here for some more information about the COVID-19 in the Bahamas:
Bahamas COVID-19 Information Page
COVID-19 in Trinidad and Tobago:
Trinidad and Tobago Rolls Back on COVID-19 Restrictions as it Crosses the 500 Case Mark
On August 15, 2020, the Prime Minister, Dr. Keith Rowley announced the following restrictions which have been re-implemented for the next 28 days, to curb the spread of COVID-19, effective August 17, 2020:
No in house dining

Beaches and rivers closed

All places of worship

Gyms closed

Cease contact sports and water parks

Casinos and cinema closed

No more than 5 persons allowed to congregate in public

10 persons max for religious ceremonies, for example, weddings, funerals, christenings

Maxis and taxis to operate at 50 % capacity

Travel to Tobago restricted to essentials

All teaching institutions closed most likely until December 31, 2020 if numbers continue to increase

Mandatory use of face mask to be implemented – currently being put in place
Persons are encouraged to stay at home as far as possible as the country's community spread of COVID-19 has begun to rapidly increase. As of August 16, 2020 the total number of positive COVID-19 cases now stands at 519 and 11 deaths.
Trinidad and Tobago COVID-19 Tracker as at August 16, 2020 (Source)
If you or a loved one develops symptoms of COVID-19, please call the hotline 877-WELL or 800-WELL (9355) for further guidance. If the person is severely ill, call the 811 (emergency hotline) or call ahead to the Accident and Emergency Department of your nearest hospital for help and go in immediately.
Find more information about the COVID-19 in Trinidad and Tobago here: 
COVID-19 in Aruba:
75 New Cases Reported as Aruba Crosses 1000 COVID-19 Case Mark
As of August 15, 2020, The total number of active positive COVID-19 coronavirus has increased to 851(836 residents and 15 visitors) with 75 new cases and 30 recoveries. The total cases to date is 1048 (1019 residents and 29 visitors).  The total recovered is 193 (179 residents and 14 visitors). The number of persons tested, including visitors, is now 15772 of which 7247 were persons tested at the airport.
There have been 4 COVID-19 related deaths (all residents) confirmed in Aruba.
As of July 25th 2020 Aruba has added a new testing option which is especially relevant to residents of US states with more restrictions.
Updated Mandatory requirements for travel to Aruba include protocols in place for visitors who test positive are that they will remain in isolation until recovered. The isolation location depends on whether the visitor was booked at a hotel/timeshare or at a villa/private residence. Hotel/timeshare guests who test positive are transported to alternative accommodations for isolation. If staying at a villa/private residence, depending on the facilities there, a guest may also be transported to an alternative location for isolation. Throughout the isolation process, medical follow-up will be conducted. Once the patient recovers and tests negative, he/she can resume vacation or depart the destination. Travel companion(s) of any new confirmed case are required to stay in quarantine – the quarantine period of 14 days restarts each time a new case is discovered within the group.
On July 01, 2020, Aruba reopened its borders to travelers from Europe, Canada and Caribbean nations (with the exception of the Dominican Republic and Haiti). Borders with the USA reopened on July 10th. No date has been set for visitors from Latin America.
The mental health helpline for anyone feeling overwhelmed and going through stress and anxiety can speak directly to a psychologist remains. It is open from 2 pm to 10 pm.
Find more information about the COVID-19 in Aruba here: 
COVID-19 in Barbados:
Barbados Reports 2 Additional COVID-19 Cases
On August 15, 2020, the Ministry of Health and Wellness reported two more people tested positive for COVID-19 yesterday, after being tested a second time.
They are a 41 year old female visitor and a 55 year old Barbadian woman, who both arrived on a Virgin Atlantic flight on August 8th.
They are both asymptomatic.
Meanwhile, two people have recovered from the viral illness and will be discharged from the Harrison Point, St. Lucy isolation facility today.
The count of confirmed cases has increased to 150. 22 people remain in isolation and 121 people have recovered.
The Best-dos Santos Public Health Laboratory conducted 180 tests yesterday, and a total of 14,217 tests since February 11th.
Barbados' first two COVID-19 cases were recorded on March 16, 2020.
Barbados Situation Report as at August 15, 2020 (Photo Source)
Barbados welcomed its first commercial flight of visitors on July 12, 2020 since suspension of flights in March.
Minister of Tourism and International Transport Kerrie Symmonds had also revealed that several protocols would be put in place before visitors could enter the island.
He explained that visitors outside of the Caribbean would have to take a COVID-19 PCR Antigen test 72-hours before they were scheduled to come to Barbados. That test will have to be accredited by a lab approved by the Ministry of Health.
Passengers from CARICOM will require a test a week prior to departure.
Failure to have a test done before arriving here would mean having a test upon arrival.
Find more information about the COVID-19 in Barbados here: 
Barbados Integrated Government
COVID-19 in Montserrat:
No New COVID-19 Cases Reported in Montserrat 
As at August 12, 2020 the Ministry of Health and Social Services reported the total number of positive cases remains at 13. The status of one of the confirmed cases is unknown at present as the person is no longer on the island.
There are presently no active cases and 11 persons have recovered.
Montserrat recorded 1 fatality in April. The island's first case was confirmed on March 17, 2020.
Montserrat COVID-19 Status Report as at August 12, 2020 (Photo Source)
Here are some useful links to get the latest updates on COVID-19 in Montserrat:
Government of Montserrat Website
COVID-19 in St Kitts and Nevis:
No Active COVID-19 Cases in St. Kitts and Nevis
On August 12, 2020, during the National Emergency Operations Centre (NEOC) Press Briefing, the Chief Medical Officer Dr. Hazel Laws stated that there are zero active cases of COVID-19 in the Federation of St. Kitts and Nevis.
To date there have been 17 positive cases with all now being recovered. Dr. Laws added that suspected cases and their contacts continue to be tested.
"We continue to test nationals who would have returned from hot spots and so to date we've tested over 1,300 persons so far," she said.
At present, there are 53 persons in quarantine. These are nationals who have returned to the Federation. In St. Kitts there are 24 and in Nevis there are 29.
Dr. Laws noted between April 24, 2020 and August 11, 2020, the total number of nationals returning to the federation is 163.
St. Kitts and Nevis COVID-19 Situation Report as at August 12, 2020 (Photo Source)
St. Kitts & Nevis was the last country in the Americas to confirm a case of the virus and among the first to report all cases having recovered with no deaths resulting from it. While it is the smallest independent country in the Western Hemisphere, the Federation has one of the highest testing rates among CARICOM nations and in the Eastern Caribbean and uses only the Polymerase Chain Reaction (PCR) test which is the gold standard of testing.
The last 2 cases were reported on July 04 and 09, 2020. Previously, no new cases were reported since April 20, 2020. They now have a total of 17 COVID-19 cases and no related deaths.
Here are some useful links to get the latest updates on COVID-19 in St Kitts and Nevis:
COVID-19 in Antigua and Barbuda:
No Additional COVID-19 Cases Reported in Antigua and Barbuda
The Ministry of Health, Wellness and the Environment reported no additional laboratory confirmed COVID-19 cases in Antigua and Barbuda in the dashboard issued on August 14, 2020.
Antigua and Barbuda COVID-19 Dashboard as at August 14, 2020 (Source)
On July 30, 2020, the government of Antigua declared a national state of emergency for the third consecutive time since March 2020.  It has now been extended to October 31, 2020.
To date there have been 93 confirmed COVID-19 cases and 3 deaths in Antigua and Barbuda. There are currently 7 active cases.
Here are some useful links to get the latest updates on COVID-19 in Antigua and Barbuda:
Antigua and Barbuda government information services
US Embassy in Barbados, Eastern Caribbean and OECS COVID-19 Information
C

OVID-19 in Dominican Republic
Dominican Republic Reports New Method for Testing as COVID-19 Cases Continue to Increase
On August 11, 2020 the Ministry of Public Health presented a new COVID-19 detection system that consists of a breath analyzer that in approximately 20 minutes generates a result with about 95 percent effectiveness.
The Minister of Public Health, Dr. Rafael Sánchez Cárdenas stated that this new mechanism is of Israeli manufacture where its effectiveness has been verified and that countries such as India, Brazil, the United States evaluate its safety and effectiveness as well as the Dominican Republic.
He explained that they continue to carry out the corresponding studies on the new method, which will cost about 800 pesos per unit, which reduces costs by about 75 percent, but it is up to the new authorities to decide whether to acquire it.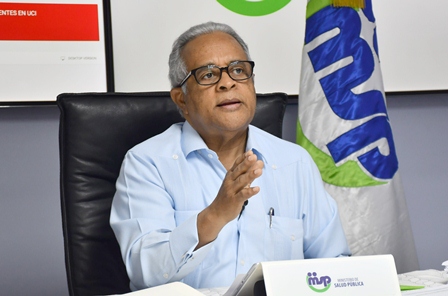 Minister of Health, Dr. Rafael Sánchez Cárdenas provides an update (Photo Source)
The Dominican Republic is currently the most affected country in the Caribbean region with 84,488 cases , 1,409 total deaths, 33,540 active cases and 49,539 recovered.
Here are some useful links to get latest updates on coronavirus in the Dominican Republic:
Additional information on COVID-19 and its impact on the region can be sourced at:
The Caribbean Public Health Agency 
Centre for Disease Control (CDC) 
Share this resourceful article with as many friends and family as possible. Remember folks, knowledge is all we have against Coronavirus today. Stay safe!