WELCOME TO THE DOMINICAN REPUBLIC
In the Caribbean Sea there is an island like no other. Situated just two hours south of Miami, Florida lies the unique island of Hispaniola. While it is one island, it is divided into two distinct countries, namely Haiti and the Dominican Republic.
Let's talk about The Dominican Republic …. even better let's see a couple of photographs of this beautiful country first…
Impressed by what you see? These photos do not even come close to capturing all that the Dominican Republic has to offer.
Known for its warm and hospitable people, astounding nature, intriguing history and rich culture, this lush tropical island paradise boasts nearly 1,000 miles (1,609 km) of coastline with 250 miles (402 km) of the world's top beaches. The Dominican Republic also features magnificent resorts and hotels, a variety of sports, recreation and entertainment options.
Here you don't need to wait for summer to go to the beach or enjoy great weather, we've got stunning weather all year long. We never need great news to be happy, our rhythm is in our DNA. Visitors can dance to the pulse pounding thrill of the Merengue, Bachata and Salsa, renew at luxurious and diverse accommodations, explore ancient relics of centuries past, delight in delicious Dominican gastronomy or enjoy ecotourism adventures in their magnificent national parks, mountain ranges, rivers and beaches.
DR has 32 provinces each with its own charm. If you have not decided yet where you next vacation will be let us show you some options of what you can find here depending on your interests.
ATTRACTIONS
Of course, let's start with the Capital City of DR, SANTO DOMINGO
Zona Colonial
Zona Colonial is the oldest urban nucleus in the city of Santo Domingo, 27.5 kilometers (17mi) away from International airport of Las Americas (SDQ). It was the first city established by Spaniards on the American Continent. In 1990, UNESCO declared it a World Heritage Site. Walking through the gorgeous streets of El Conde, Las Damas, and Las Mercedes, you will discover buildings as old as the early 1500s.
If you like the old, the architecture and you appreciate the outskirts in the cozy surroundings, you will surely fall in love with this place, many stories to listen to in a pleasant atmosphere

---
The Three Eyes National Park
Located in Mirador del Este Park, 10 minutes drive away from Zona Colonial in Santo Domingo, The Three Eyes (Los Tres Ojos) National Park house an extensive open-air limestone cave system, with three crystal clear, freshwater lakes or "eyes." Prepare to capture stunning Instagram worthy pictures here as you take in the beauty of the calming waters. Make sure to adorn cool clothing and sturdy shoes.
Photo Source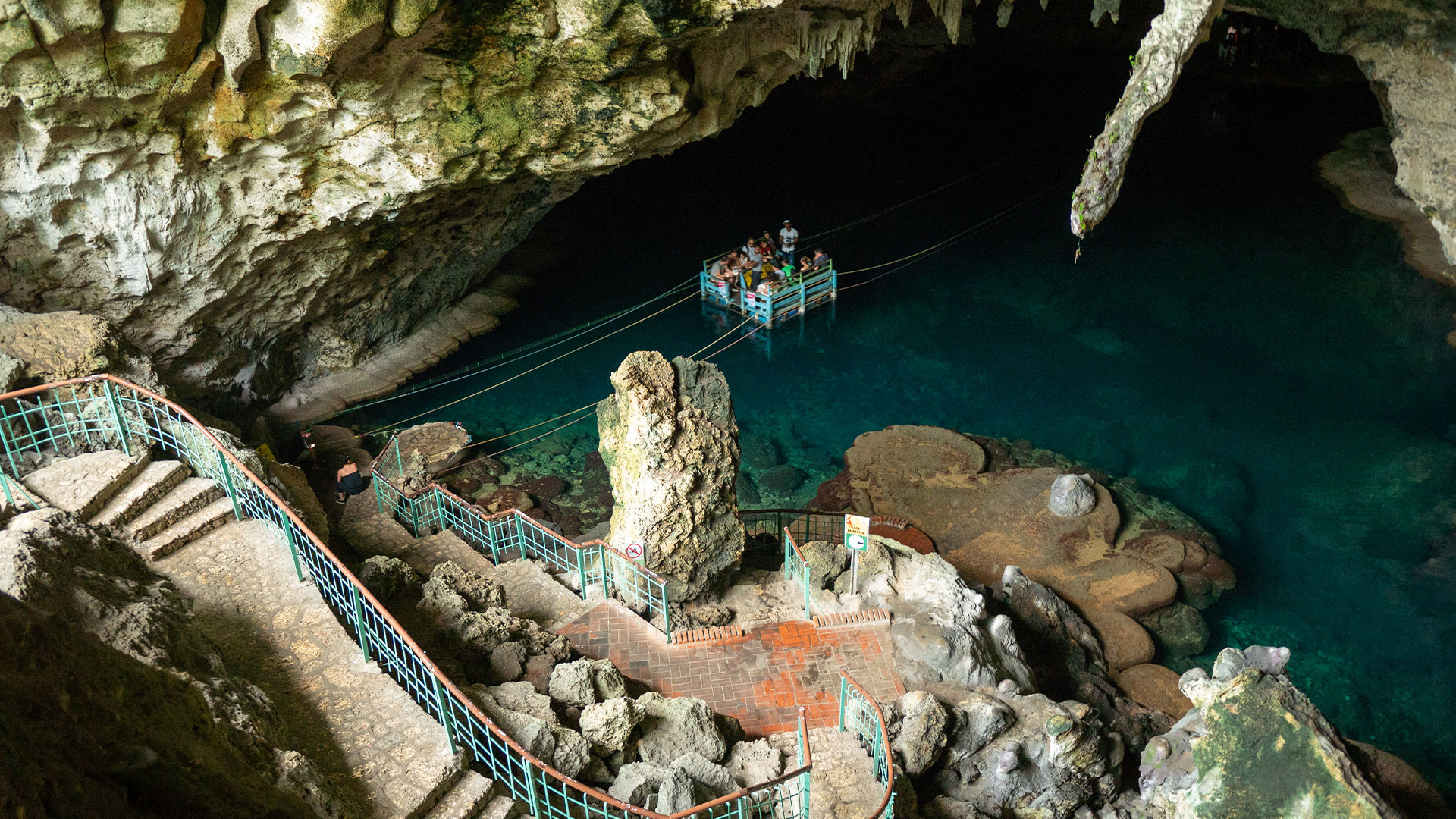 ---
Now, let's move the East Coast of DR, and heading in La Romana Province.
La Romana
La Romana is the fifth largest city of Dominican Republic. La Romana is known for its serene beaches and tranquil resorts. One of the popular tourist spots here is Altos de Chavon, which is a beautiful 16th-century replica of Mediterranean village where you can shop for crafters and souvenirs. From here, you can take a trip to the nearby fishing village of Bayahibe, which has a stunning beach and other sites for eco-tourism. You can also take a snorkeling tour to Catalina Island. Bathed in beautiful beaches such as La Caleta Beach, Bayahibe Beach, or maybe El Calentón beach.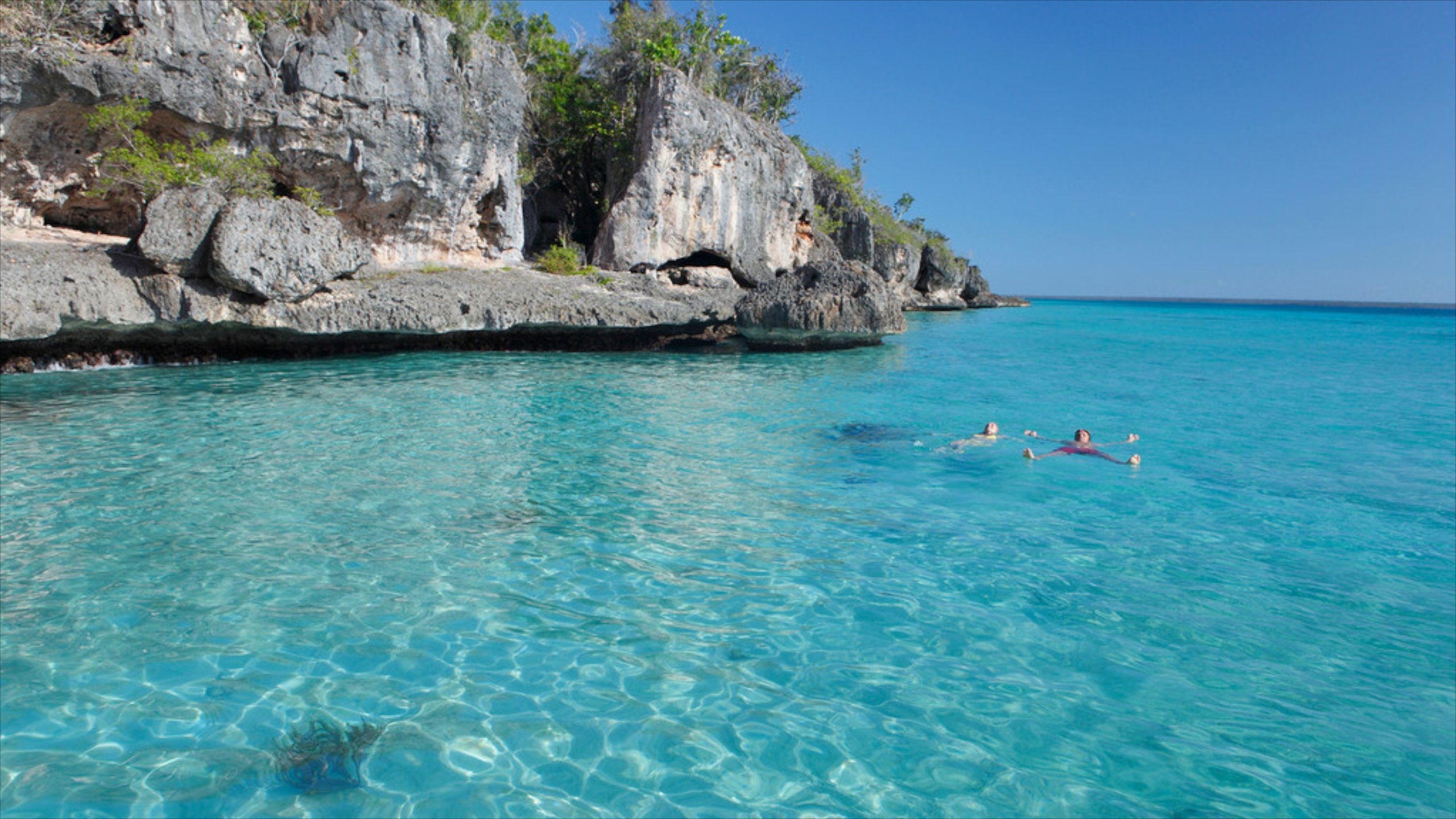 Puntacana
Also called the resort destination of the world, Puntacana has something for everyone. With luxury resorts lined up on the white sandy beach, you can easily access all the activities, including boat riding, parasailing, and snorkeling. The marine area surrounding Puntacana was declared a marine reserve in 2012.
You can found Playa Dorada (Golden Beach), Tortuga Bay, or The Westin Hotel like this beauty…
---
Capcana
Capcana is an exclusive and luxury real estate and resorts destination located on the eastern shores of the DR, sharing some avenues and coast with Puntacana.
---
Bávaro
Bávaro is a tourist area located in the easternmost province of the Dominican Republic, La Altagracia. A little more than 20 kilometers (12 Miles) away to the north of the international airport of Puntacana (PUJ) and extends 15 kilometers (9.3 mi) north until the crossroad for Macao Beach. At the center of Bávaro is the crossroad of Friusa. Beyond the crossroad Verón, on the right side is an important road to Cabeza de Toro, most eastern tip of the island of Hispaniola, and the Dominican Republic as well. Next crossroad, El Coco Loco, leads to the Friusa Centar and further points north.
---
So, let's move to north region of RD
Jarabacoa
Jarabacoa is a place of waters, is a scenic mountain resort perched at an altitude of 529 meters. This gorgeous little respite is known for its fresh waters, lush green landscapes, and pleasant temperatures. This town is mainly seemed out by adventure lovers as it offers many nearby opportunities for rafting, hiking, biking and other types of exploration.
---
Samaná
Samaná is a peninsula on the coast of the Atlantic Ocean in the northeastern part of the DR. known for the mountains of which it is almost entirely formed, numerous beaches, amazing incredible landscapes and where the breeding places of the humpback whale. You can visit Los Haitises National Park, which is popular with national and international ecotourist visitors, Las terrenas, The Salto del Limón, Playa Rincón and all the Coast of Samaná Bay lies along the boundary between the North American Plate and the Caribbean plate.
I know you have heard people say the word "amazing", but let me tell you something, you must visit this AMAAAZING province, waaaaw! Look this.
---
Puerto Plata
Puerto Plata is one of the northern provinces of the DR, in English its name would be Silver Port.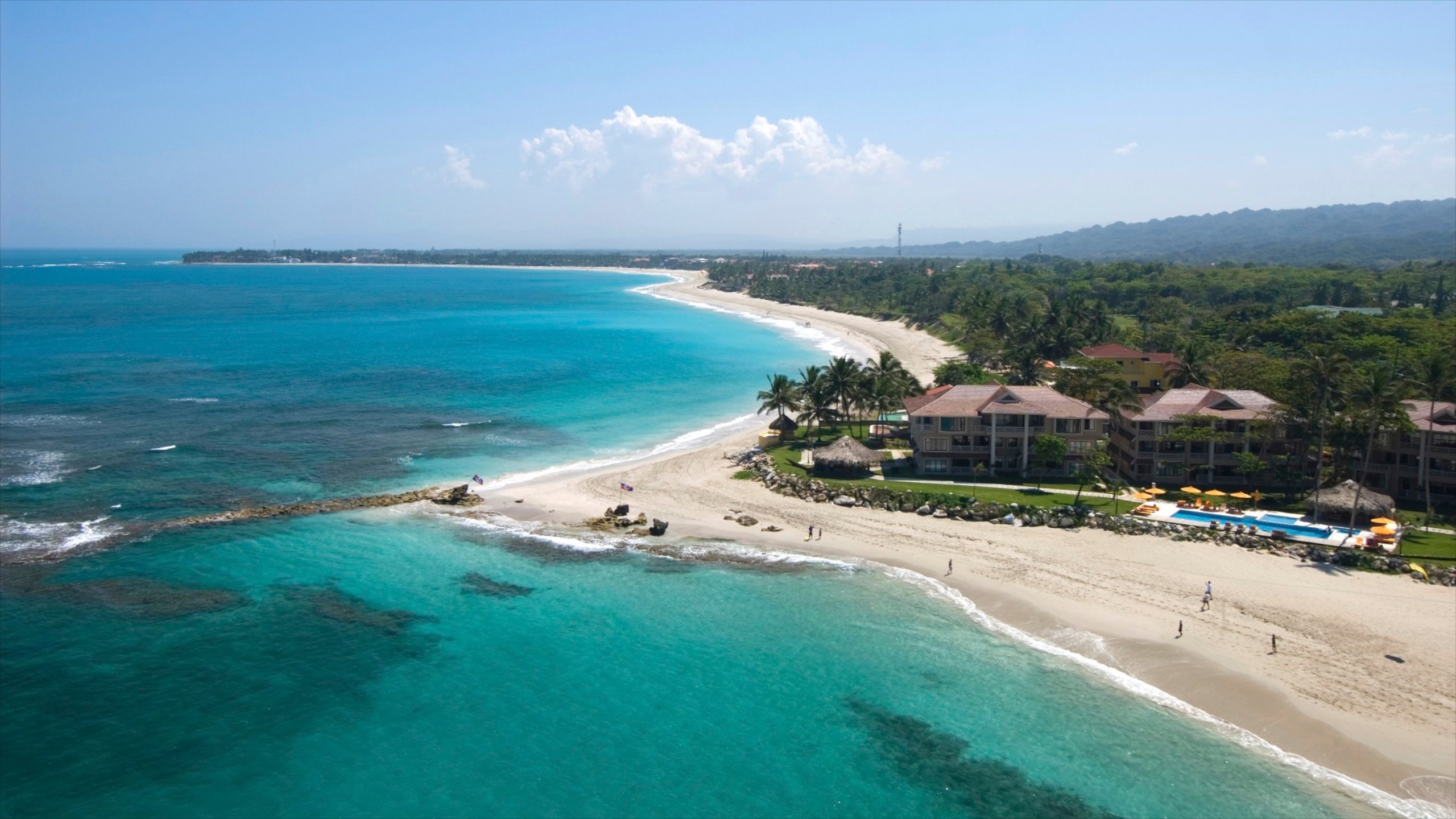 Playa Cabarete view, Puerto Playa
---
Well, Let's jump into the South region of DR…
Pedernales
Pedernales is the southernmost province of the DR. If you prefer being outside of resort and those noisy overcrowded cities, then buddy! nothing like this natural and urban virgin area like Perdernales. known for having one of the most beautiful bays in the world, Bahía de Las Águilas (The Eagles Bay)…. look at this
Parks, lagoons and lakes that are home to endemic and endangered wild flora, birds and reptiles. Ancient Taino caves that reveal freshwater wells and rock art that few have seen, and Parque Nacional Jaragua (Jaragua National Park), part of a UNESCO-designated Biosphere Reserve, which is home to 400 species of flora, 130 bird species, an abundant marine life, with turtles that nest on its beaches swim in the waters of the Beata and Alto Velo islands. You will also find a reptile refuge, as well as the Hispaniola solenodon and the Hispaniola jutía. Near this area, American crocodiles reproduce and sunbathe in the hypersaline waters of Lake Enriquillo, the largest lake in the Caribbean.
---
ENTERTAINMENT
In light of the Covid-19 pandemic, the government of the Dominican Republic has suspended events and public gatherings of all kinds, until further notice. People are advised to stay at home and avoid unnecessary travel.
However, you can still enjoy the beautiful views of the Dominican Republic from the comfort of your homes, until the islands open to welcome you again!
UPCOMING EVENTS
February 2021
The Dominican Carnival celebration is celebrated in the Dominican Republic each February with parades, street dancing, food festivals, and lots of music. It is filled with extravagant and vibrant costumes, masks, and mystical characters.
The Dominican Republic Jazz Festival
August – November 2021 (different locations throughout the Dominican Republic)
September 21 – 27, 2020
The third edition of the Corales Puntacana Resort & Club Championship will be held at the Tom Fazio-designed Corales Golf Club.  More than 132 professional players are expected to compete for a chance to earn points of the FedExCup and carry a purse of US$3 million. The event will be organized by Puntacana Resort and Club and will serve as the host organization for the PGA TOUR in the DR, the main American professional golf circuit for men.
TOURISM UPDATES
Dominican Republic is ready to re-open!
The President of the Dominican Republic, Luis Abinader, has called on all hotels and resorts to re-open their doors to tourists effective October 1, 2020.
The Minister of Tourism, David Collado, said that there is a well-planned protocol to ensure the safety of both tourists and hotel employees.
He indicated that airports will have strict sanitary protocols including temperature checks, social distancing and the wearing of masks. Among the measures to be implemented as part of the plan is for persons to present COVID-19 tests with negative results at the airports prior to entering the country, since non-invasive random tests will be carried out, with a PCR test .
Minister Collado also stated that all short-stay tourists  who enter the country from September 15 to December 31, 2020 will benefit from a traveler assistance plan during their first stay in a hotel  with an operating license. The plan includes emergencies in the event  a visitor contracts COVID-19 and will also be covered by the Dominican Government.
Minister Collado further stated that the Civil Aviation Board managed to ensure that both airlines and airports maintain updated flight protocols. The Ministry of Labor  will also facilitate  agreements between employees and employers to adjust the working day to this new reality.
It is important to note that today we have the most favorable indicators within the region, regarding the pandemic.
Our Minister of Tourism also said: "We are prepared within the new reality of the world to receive tourists in our country"
The Dominican Republic is ready to receive you with its well-known warmth, energy, rhythm, great weather and higher health safety.
WILDLIFE/ECO-TOURISM
There are many opportunities for eco-tourism throughout the Dominican Republic. With its beautiful limestone beaches, serene waterfalls, lush green tropical forests, and diverse species of fauna, Dominican Republic is the perfect place to reconnect with nature.
Los Haitises National Park
Los Haitises National Park is so massive that you are probably going to want to reserve a spot on one of their guided excursions. You can kayak through the mangroves or around the coast, climb the mountains, or go bird watching. No matter how you plan to spend your day (or days!) in Los Haitises, you are sure to enjoy this lush and tropical landscape as you reconnect with nature.
Monkeyland
For those who want to get up close and personal to some cousins, why not take a day trip to Monkeyland? You can feed the monkeys, let them climb up on your shoulder, and learn about them in their environment. The tour organizers also offer zipline and hike excursions, so check out what all is available before you decide!
Whale Watching At Samana Bay
Every year, from December to March, the humpback whales return to Samana Bay waters to mate and produce offspring. At the La Ceyba you can take a boat tour and cruise out into the open waters to witness these magnificent creatures in the wild.
Sting Rays & Shark Encounter
Get aboard a glass-bottom boat at the Bavaro Beach in Punta Cana and head off for the marine park. Here, you will get a chance to interact with the harmless sharks and giant manta rays. Click pictures while you stroke the giant mammals and make everlasting memories.
GETTING THERE
The Dominican Republic has many international airports spread throughout the country. The major points of entry are through Santo Domingo, Puerto Plata and Punta Cana. However, you can also fly directly to Santiago and Samana. It's often cheaper to come via charter flights, especially for tourists looking for all-inclusive packages (airfare, hotel, food).
For travelers from the US and Canada, there are a lot of flight options. Cheaper and more frequent flights depart from the major cities of Miami, New York, Montreal, and Toronto. From North America, Jet blue offers budget travel to Santo Domingo, Puerto Plata, and Santiago.
British travelers can take a biweekly direct flight with British Airways from London to Punta Cana. You might be able to leverage them to take you to Puerto Plata or Santo Domingo, with a stop-off in Miami and a connecting flight through their partner American Airlines. There are also a number of direct charter flights to Puerto Plata and Punta Cana from London, Gatwick and Birmingham.
There's no easy way for travelers from New Zealand and Australia to get to the Dominican Republic. There are no direct flights and it usually takes more than a day to get there. However, it is more convenient to take a non-stop flight from Sydney to New York via Qantas, American or United, and then an onward flight to DR through North American Airlines.
From South Africa, travelers can fly with Iberis Airlines, and get to Santo Domingo via connecting flight from Madrid and/ or London. British Airways can take you to Puerto Plata and Punta Cana via stop-off at London and/ or Miami.
The DR is also easily accessible by cruise ship if you would rather enjoy a leisurely journey on the open Caribbean Sea.
GETTING AROUND
Once you begin your DR journey, you are sure to want to explore all that the country has to offer. Getting around the Dominican Republic is quite convenient, thanks to the numerous transportation options available. Be it taxis, Uber, or bus travel, you will always find something according to your liking. Get more details here.
NATIONAL HEROES/MUSEUMS
Ramón Matías Mella: One of the founding fathers of the Dominican Republic. He was a war hero that led the Patriot army to victory. He then served as the vice president of the Republic but passed away shortly into his term.
Francisco del Rosario Sánchez: One of the founding fathers of the Dominican Republic. He worked to strategize and fight for the Dominican Republic. Later in his political career, he was exiled out of fear. When invited back into the country, he worked to stop the Spanish takeover and tried to take command but was executed as a result.
Juan Pablo Duarte: One of the founding fathers of the Dominican Republic. Duarte helped fund the Revolution against Haiti. He helped communications throughout the war and helped lead the Dominican Republic to its victory. However, like Sánchez, he was exiled. However, he was never invited back and died in exile.
Rafael Leonidas Trujillo Molina: A prominent political figure from 1930 until his assassination in May 1961. He was elected president 4 times and also served as the commander-in-chief of the armed forces.
For history buffs who want to learn about the early days of the ruling elite before the Dominican Republic became the Dominican Republic, you can visit the Museum of the Royal Houses. You'll learn about Hispanic heritage, colonization, historic medical practices, and even pirates.
DONATE
Children are our future, and today that almost feels truer than ever. You can donate to The DREAM Project to help get the children of the Dominican Republic the early education they deserve. With a strong early education, they can grow to become stronger students and have more doors open up for them.
Save The Children is an organization that works to provide basic healthcare and educational facilities to children in need, to protect them against malnutrition and illiteracy.
The Mariposa DR Foundation is a non-profit organization dedicated to providing education and empowerment to young girls to create sustainable opportunities and end generational poverty.